TRIAD works with Mustard Seed Market & Cafe to create vibrant hand-drawn graphics and signage for their new Highland Square location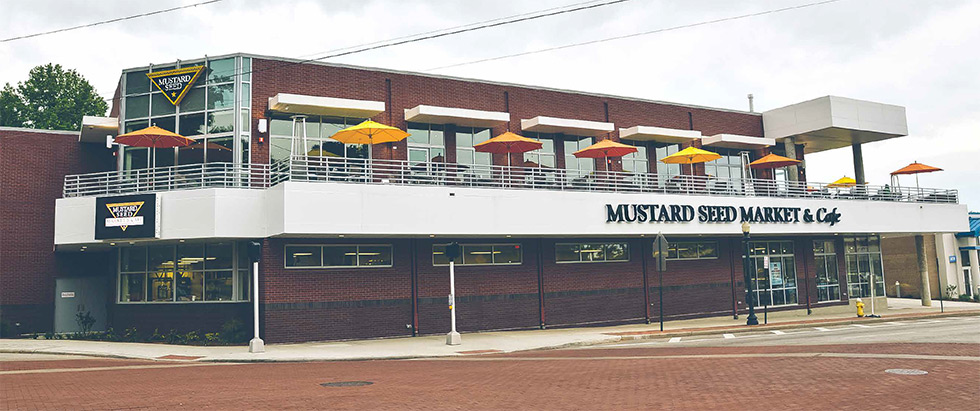 Mustard Seed Market & Cafe is the largest, locally owned retailer of natural and organic products in Ohio. In the fall of 2014, Mustard Seed approached TRIAD with a request to design exterior and interior signage for their new store located in Akron's, Highland Square. MSM wanted this new store to reflect the fun, young, and artistic culture of Highland Square, which would result in a fresh take on the brand seen throughout the existing two locations. Leading the design campaign was Graphic Designer, Laura Guardalabene and Art Director, Joe Nemeth.
The team took a bold and bright approach with fresh, close-up photos of produce, custom hand-drawn illustrations and a pumped up color palette. MSM differentiates itself from other health food stores by maintaining stringent ingredient standards they call their Golden Standards. These standards have been the cornerstone of their business since 1981. Being such an important part of their company, the TRIAD team wanted to present these standards to the MSM customers in a much more impactful and creative way than just listing them out by the entrance. So TRIAD developed typographic illustrations for each standard that could work as a set or individually. Careful attention and strategic thought were put into every design throughout the modern 23,000 square foot building. Everything from the cafe's pillars, the aisle signage and even the employees' shirts work seamlessly together to create a feeling of fun and freshness; all while providing effortless direction and readability for the customers.
Exterior Signage & Lettering
Welcome Wall Art
Grocery Aisle Signs
Department Signage
Food Bar Signage
Bag + Package art
Employee T-Shirts
Restroom Signs
Checkout Lights
Grand Opening Campaign