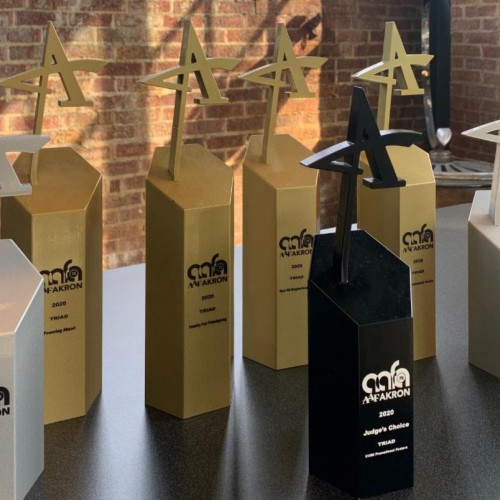 We were recently honored with six ADDY Awards and a Judge's Choice at the AAF-Akron American Advertising Awards!
Gold ADDY awards
Cuyahoga Valley Scenic Railroad Powering Ahead Capital Campaign 
Cuyahoga Valley Scenic Railroad Promotional Posters 
West Hill Neighborhood Organization Logo 
Foundry Fest Friendsgiving Invitation 
Silver ADDY awards
Burton D. Morgan Foundation GROW annual report 
Judge's Choice award from James Yount of Oliver Winery
Cuyahoga Valley Scenic Railroad promotional posters.
"Winning 6 ADDYs— as well as a Judge's Choice -  is a direct reflection of the creativity, strategic thinking and results-based marketing of our team here at TRIAD. We're honored for this industry recognition and proud of the work we continue to deliver to our clients year after year."
 - Rick Krochka, president.